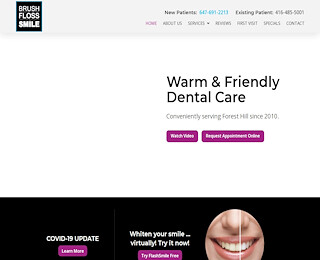 No kind of health emergency is fun, but a dental emergency can be especially agonizing. Has this happened to you? Or is it happening now? If so, contact Brush Floss & Smile for emergency dental care in Toronto. If the pain in your teeth is unbearable, or if you have lost a crown, you need to get to a dentist right away. Don't let fear of an astronomical dental bill or lack of insurance coverage keep you from seeking the treatment you need.
Don't Let Money Stop You from Getting the Help You Need
At Brush Floss & Smile, we work with most insurance providers, and we can help you find financing solutions. You will be pleasantly surprised to discover that we offer 24-hour emergency dental care at our office. The pain you feel isn't going away on its own, and that crown or filling isn't going to reinsert itself. Get the help you need, we'll worry about the bill later.
There are typically three types of reasons that people come in for emergency dental care, and each one is usually painful:
1) They've had an accident and broken a tooth.
2) They're experiencing some kind of severe dental pain.
3) A crown or a filling has fallen out.
You Need Fast Relief
When you are having a dental emergency, you need instant relief. An Aleve may not be enough for your dental emergency. You need an emergency dentist that is readily available. We don't want people to suffer until their pain is resolved. This is important because your problem can actually get worse before it gets better – a lot worse. This is why we place such a high emphasis on seeing our emergency patients right away.
We'll Turn Your Bad Experience Into A Good One
You can have peace of mind knowing that when you come to Brush Floss & Smile for emergency dental care in Toronto, we have the tools, equipment, and the expertise to diagnose your problem and give you relief quickly. Our patients love our dental clinic because we have earned a reputation for excellent dental care, we provide a relaxing environment, and our staff is completely professional and friendly at all times. Believe it or not, emergency dental services can and should be a positive experience. You just need to find the right dentist.
Call Us for All Dental Emergencies in Forest Hill
At Brush Floss & Smile, we offer same-day appointments and after-hours care. This is crucial to addressing dental emergencies. If you call during normal hours and you mention that you have a problem, we will escalate your priority to get you in immediately. Further, during normal business hours, we have extra staff on duty specifically for the task of handling emergencies. If you need emergency dental care, call Brush Floss & Smile today.
Emergency Dental Care Toronto
Brush Floss & Smile
4164855001
471 Eglinton Ave West, Toronto, ON M5N 1A7
View Larger Map