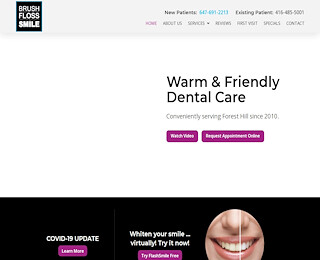 Before choosing a dentist in Eglinton, be sure to do your research and find the one that's best for you and your family. Brush Floss & Smile is a Toronto favourite because we provide our clients with excellent dental services at affordable prices. We believe that regular checkups and tooth cleanings are vital to maintaining oral health. As you likely know, not going to the dentist can lead to big problems quickly. Likewise, there are many benefits to getting regular examinations.
Give Your Mouth The Love It Deserves
Indeed, the best thing a person can do for his/her mouth, regardless of their age, is to go to the dentist on a regular basis. This can help to prevent serious problems from forming. If issues are ignored, they will only get worse and worse until the problem becomes severe. If you suspect you are noticing the first signs of a dental problem, as with all other health concerns, the sooner you get treatment, the better.
Save Yourself Money With Regular Checkups
If your good health isn't reason enough for you to seek regular dental care, how about your purse? Not only can prolonging oral treatment for dental problems enhance problems in the mouth, but it also will enhance your dental bill greatly. If a problem is ignored long enough, it will become worse and lead to an issue that might require surgery or more. By nipping the problem in the bud, you will save your health and your wealth.
Find Problems Before They Become Critical
When you come in to Brush Floss & Smile, we can inspect the teeth, the gums, the mouth, and the tongue. Again, the purpose is to find problems before they form or before they become major problems. By inspecting your teeth, we can make sure that they are free from any cavities, tartar, or worse. X-rays may be used in your dental examination as well, especially if it has been a prolonged time since you have visited a dentist.
The Use of X-Rays During Dental Checkups
Despite common misconceptions, x-rays are safe. An x-ray can help us notice if there is a cavity between the teeth. This is hard to spot without the help of an x-ray. Detecting an issue while it is still small can save time, money, stress, and even your life, believe it or not.
Follow Your Dentist's Advice
To help keep your teeth in the best possible condition, you will need to follow the recommended schedule we assign to you. This includes going to regular dental examinations and cleanings. We recommend at least once a year but more frequently for clients with advanced dental issues.
Caring For Your Teeth At Home
When caring for your teeth at home, be sure to brush at least twice a day in two-minute durations. Ideally, the teeth should be brushed after each meal. This can help to remove particles and substances food and drinks leave behind. Also, be sure to floss at least once a day. If possible, rinse with mouthwash in the morning and night before bed. For more tips, or to schedule an appointment with a reputed dentist in Eglinton, contact Brush Floss & Smile today.
Dentist Eglinton
Brush Floss & Smile
4164855001
471 Eglinton Ave West, Toronto, ON M5N 1A7
View Larger Map