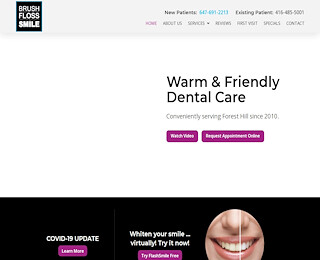 In case you are in immediate need of a dentist, and you simply cannot wait until regular office hours, it's quite important for you to receive assistance as soon as possible. Emergency dental care is just as important as receiving any other type of emergency care, as your oral health is just as critical as any other health issues you may have. Unfortunately, all dentists don't offer emergency care after-hours, and waiting until the next business day can cause serious harm to your overall health, along with increasing the discomfort and pain. Our caring, professional Chaplin Estates dentist at Brush, Floss & Smile, will be able to provide you with the quality oral care that you need now.
At Brush, Floss & Smile, your Chaplin Estates dentist, we provide affordable and comprehensive dental procedures and treatments to all of our valued patients. Whether you need an early morning visit before you go to work or school, or perhaps you would prefer a scheduled appointment later in the evening, we happily offer extended office hours, as we realize that you work as hard as we do. We also offer 24/7 emergency services for those who simply can't wait for regular office hours to have their dental concerns taken care of. It is our main objective to give you the care and treatment that we would want our friends and family members to receive.
Emergency dental care is actually possible and there for you when a dental catastrophe strikes after business hours. Accidents happen, and we're proud to be here for you. In case you discover yourself in serious discomfort, have a tooth knocked out, or perhaps have experienced oral trauma, we invite you to come into our care and take advantage of our emergency dental services. Our goal is actually restoring your dental health easily and effectively with the utmost care and consideration. There is no reason to lose sleep and remain in pain when we are but one phone call away.
If you would like some additional information about the treatments offered by Brush, Floss & Smile, your Chaplin Estates dentist, we would like to invite you to visit our website. At brushflossandsmile.com, you can leave your contact information, for a quick response. You can also simply call us at (647) 691-2213 and speak with one of our friendly and knowledgeable medical staff members.
Brush Floss & Smile
4164855001
471 Eglinton Ave West, Toronto, ON M5N 1A7
View Larger Map